March 31, 2006 at 2 PM
The Beeb at Home and Away
The BBC has a well-earned reputation for its international news coverage. It is one of the most reliable and informative sources for world events, maintaining a high level of integrity and balance in its coverage. Indeed in many less democratic countries, the BBC World Service is one of the only worthwhile sources of news.
It's interesting then to observe that the BBC is an entirely different beast inside its own waters than when observed overseas. The BBC in Britain caters to a different audience, and and its coverage is tempered by a different set of competitors — the other British TV networks and the British press, especially the ever-popular tabloids. As such, BBC's news coverage within the country is unblinkingly Britain-centric, and the scope is more concerned with typical national issues: crime, health care, immigration and political scandal.
To be fair, there is still one foreign topic that all British media believe captivates the British audience, and the BBC is right there at the front of the pack: coverage of American celebrities.
Consider, if you will, this snapshot of the BBC News homepage — first the international version, second the UK version — and what they've chosen to feature in the "Video and Audio" section.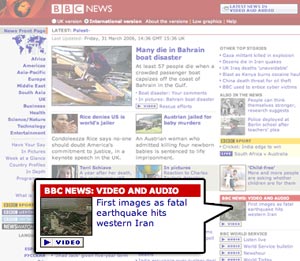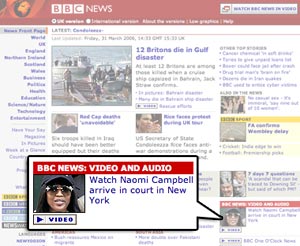 Ahem.
Previously: A Bit of Folded Paper

Subsequently: Email Attachments in Mail