May 22, 2003 at 9 AM
Doesn't It Make You Hungry?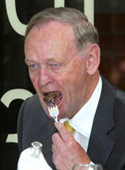 And so the Canadian Prime Minister said to the photographer in the press corps, "Flattery will get you everywhere."
Never underestimate the Canadian media's ability to kill two birds with one stone. Why, there's nothing like a good photo op to make everyone know it's okay to eat Canadian beef again. And we can show what a fine, respectable statesman our leader is at the very same time!
Previously: Film at 11: The Jessica Lynch Story

Subsequently: Some Privacy Please