August 6, 2001 at 2 PM
Fake Plastic Tickets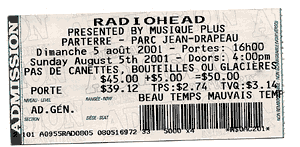 And quel beau temps it was. The last minute decision to go to the Radiohead concert in Montreal the day I returned from Vancouver proved to be one of my better ones. I ended up going alone since no one else was answering their phone an hour before the concert began — a little peculiar, for me, but once the music started, who really noticed anyhow. 'John Flag Park' is big enough to hold the Red Army, so the concert wasn't sold out.
Though not for lack of trying. What was perhaps most surreal was watching perhaps 50,000 people remain still and near silent for Thom Yorke's acoustic guitar and such sombre and intimate wares as "Exit Music (for a film)" But they rocked out too, when the band obliged.
If you get a chance, see this show. The sound quality was incredibly crisp and tight (the best I have ever heard at such a venue), the lights were bombastic when it suited, understated and monochromatically moody when needed, and the band — well there's a reason why Radiohead can have 50,000 people swaying to their rhythm (even if it's 10/8 time).
The band plays with gutsy emotion, fueling their music with the extra energy that makes a live show just that special. They aren't pretentious rock star wankers who make the audience wait an hour (although there was, as always, the gratuitous 'encore,' welcome as always for the extra songs, but why not just play the damn show? Why the theatrics every time?). The musical talent was evident from the sheer variety of instruments they toted on stage. Radiohead may rock, but how many rock concerts have you been to that featured a glockenspiel solo? In particular, a highlight was Yorke pounding away on the upright piano, his slightly alien face staring whimsically into the camera hooked up to the big screen.
It's hard not to love a show and a band like this, because it's obvious that's exactly how Radiohead feels about its music. TLC doesn't normally apply to an outdoor concert in front of teeming thousands, but in this case, that's the feeling I went to bed with, warm and happily falling asleep. Did I mention my ears weren't even ringing?
Previously: The Republican Tangent

Subsequently: China Takes Censorship Gold in Record Time